Coverage Area: Long Island NY
Our main coverage area for Long Island Used Cars is Long Island, and while it may be minutes away from New York City, unlike Manhattan, it is very much a suburban area. With plenty to enjoy between its beaches, seaside communities, villages and wineries, Long Island stretches approximately 115 miles long from the western end to the easternmost point. There are approximately two hundred franchise and independent auto dealers within the region.
Surrounding Long Island on its west end is Brooklyn and Queens, two parts of New York City's five boroughs. Past that point, Long Island is comprised of Nassau County and Suffolk County which include popular points of interest such as Long Island's Gold Coast, Fire Island, Montauk Point and the Hamptons. People come from all across the globe to visit these areas. Within the counties most considered by locals as "Long Island" are towns, with both villages and hamlets. Nassau County is made up of the Town of Oyster Bay, Town of Hempstead and Town of North Hempstead. Suffolk County is much larger and includes the Town of Babylon, Town of Brookhaven, Town of East Hampton, Town of Huntington, Town of Islip, Town of Riverhead, Town of Smithtown, Town of Shelter Island, Town of Southampton and Town of Southold. Suffolk County is also home to two Indian reservations, including Poospatuck and Shinnecock.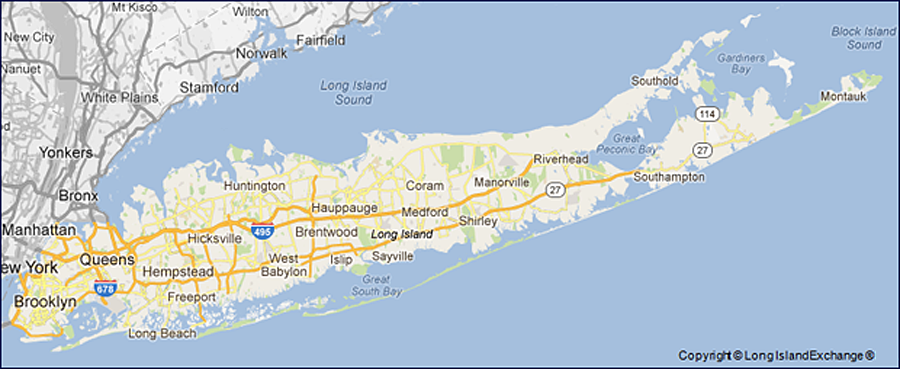 Transportation
Like any suburban area getting around is most convenient with a vehicle, but locals and visitors also have the convenience of the Long Island Rail Road (LIRR), which runs at various points on Long Island and into New York City like Brooklyn, Queens and Manhattan. Some of the touch points on the LIRR on Long Island include Babylon, Far Rockaway, Hempstead, Long Beach, Montauk, Oyster Bay, Port Jefferson, Port Washington, Ronkonkoma and West Hempstead.
The two main public bus operators on Long Island include the Nassau Inter-County Express, also known as NICE, and the Suffolk County Transit. Travelers are offered an extensive network throughout the counties whether it's for a visit to one of the beautiful beaches like Jones Beach or Long Beach, a visit to the many malls on Long Island like Roosevelt Field, Walt Whitman Mall or Sunrise Mall, as well as many other destinations. Brooklyn and Queens are both served by the NYC Metropolitan Transportation Authority.
When it comes to air travel, Long Island is home to MacArthur Airport (ISP) and a number of smaller airports like Brookhaven Airport, Francis S. Gabreski Airport, Mattituck Airport, East Hampton Airport, Spadaro Airport and Republic Airport. Still in close proximity are the major air transportation hubs in Queens County, including John F. Kennedy International Airport (JFK) and LaGuardia Airport (LGA). JFK and LGA are considered the Island's two major International Airports despite them both technically being located in the New York City area. MacArthur Airport, while considered the true Long Island airport, offered limited airlines and flights both in and out.
Things To Do / Places To Go
Sure, New York City is known to be action-packed with lots to do, but Long Island also has plenty to offer to locals and visitors. On top of the wonderful beaches, lighthouses like Fire Island Lighthouse and Montauk Point Lighthouse, historic places like Sagamore Hill, Planting Fields Arboretum, Oheka Castle, Old Westbury Garden, Old Bethpage Village Restoration and Grist Mill, hotspots for fishing and boating and museums like the Long Island Aquarium & Exhibition Center and Cradle of Aviation, it's also grown to become a thriving viticulture area.
North Fork is home to approximately 50 vineyards thanks to the rich soil and terrain. Located at the eastern point of North Shore, it is in close proximity to the Long Island Sound, the Atlantic Ocean and the Peconic Bay. Visiting the Wine Country doesn't mean making a visit to California, but simply visiting the eastern end of Long Island where plenty of wine tastings and wine tours happen.
The Rich and Famous
The Gold Coast on Long Island has been known for the wealthy with their large estates. While times have changed and some of the richest and famous people these estates have been name after have now past, many of the mansions continue to live on and may serve other purposes. People like Theodore Roosevelt, Walt Whitman, Charles Lindbergh, William K. Vanderbilt and Walter Chrysler maintained large estates on Long Island.
Today, the rich and famous continue to visit and live - establishing living quarters - on Long Island. It may be because of its beautiful shores, the Hamptons, Fire Island, the Belmont Stakes, it's rich land and history or all of these factors and more.
Article Copyright © 2015-2018 www.liusedcars.com